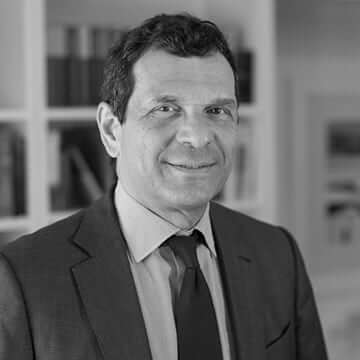 Michael Tsibris
Managing Partner
Michael is one of the two Co-Managing Partners of the firm and leads the corporate and financial regulation team.
He has over thirty years of experience in Financial Regulation and Capital Markets transactions, in Banking and Insurance, as well as in all types of Mergers and Acquisitions.
Prior to joining Souriadakis Tsibris, he worked as an associate for Zepos & Zepos and later he was name partner at Moussas & Tsibris. He has actively participated in some of the major transactions in the Greek capital and M&A markets, such as the privatization of the Greek Telecom via several stock exchange transactions, the acquisition of Aluminium de Grece by Mytilineos Group and the sale of a large stake in one of the major mobile carriers, Cosmote. As the preferred legal counsellor for the Greek arm of one of the major multinational insurance groups, he has also amassed considerable experience and expertise in the field of insurance regulation, supervision, contracts and litigation.
Michael was member of the Committee for the Codification of Capital Market Regulations at the Ministry of National Economy and to various ad-hoc committees drafting legislation for the privatisation of the Athens Exchange and later its Regulation – on behalf of the Capital Market Commission. He is regularly appointed member of ad-hoc committees advising on important financial regulation issues or preparing relevant rules for submission to Parliament.
Author of a widely acclaimed book incorporating a collection of stock exchange and capital market rules which ran several editions ("Capital Market Laws", 7th ed., 2008), he has published numerous articles in the financial press and legal periodicals, such as indicatively "Regulation of Corporate Takeovers in Securities Markets – Greece", in PJ Kozyris (ed) Corporate Takeovers through the Public Markets, "The Athens Stock Exchange Modernises its Listing Requirements", Journal of International Banking Law 3 (1999) 92-95, and "Privatisations in Greece", International Business Lawyer, March 1993, 132-135.
RELEVANT WORK
He has advised the group that effected the largest merger transaction for the last years in Greece, in all aspects of capital market regulations involved – the deal involved the merger of two listed companies and presented numerous issues that required creative legal thinking;
He advised in a recent high-profile market abuse case, involving prominent bankers in both the administrative and criminal law aspect of the matter;
Coordinated the firms' Brexit response team which advised numerous financial institutions in the Greek aspect of their Brexit (non-deal) contingency plans.
Represented, Alter Ego S.A., one of the four successful bidders in the closed auction for four television broadcast licenses that took place on 2016. The matter had received considerable publicity in Greece and presented numerous difficult legal problems.